Posted on January 27, 2022
Markets cratered this week, heading into correction territory, and then bounced right back.1
And then continued bucking and kicking the next day.
Weird, right?
Not really. These things happen pretty regularly when investors get jittery.
Let's talk about what's going on.
What led to the giant selloff?
A few things:
Fears around the Federal Reserve raising interest rates and what rapidly removing support could do to markets and the economy.2
Inflation worries (it's at a 40-year high).3
Tech earnings.4
A potential hot war in Ukraine.5
Bottom line: markets are being driven by fear, anxiety, and uncertainty.
Could we see a bear market or serious corrections in the weeks ahead?
Very possibly.
Corrections happen regularly and it wouldn't be surprising to see continued volatility or major drops.
Here's a chart that shows intra-year dips in the S&P 500 alongside annual performance to illustrate how often markets take a dive.
(Take a look at the red circles to see the market drops each year.)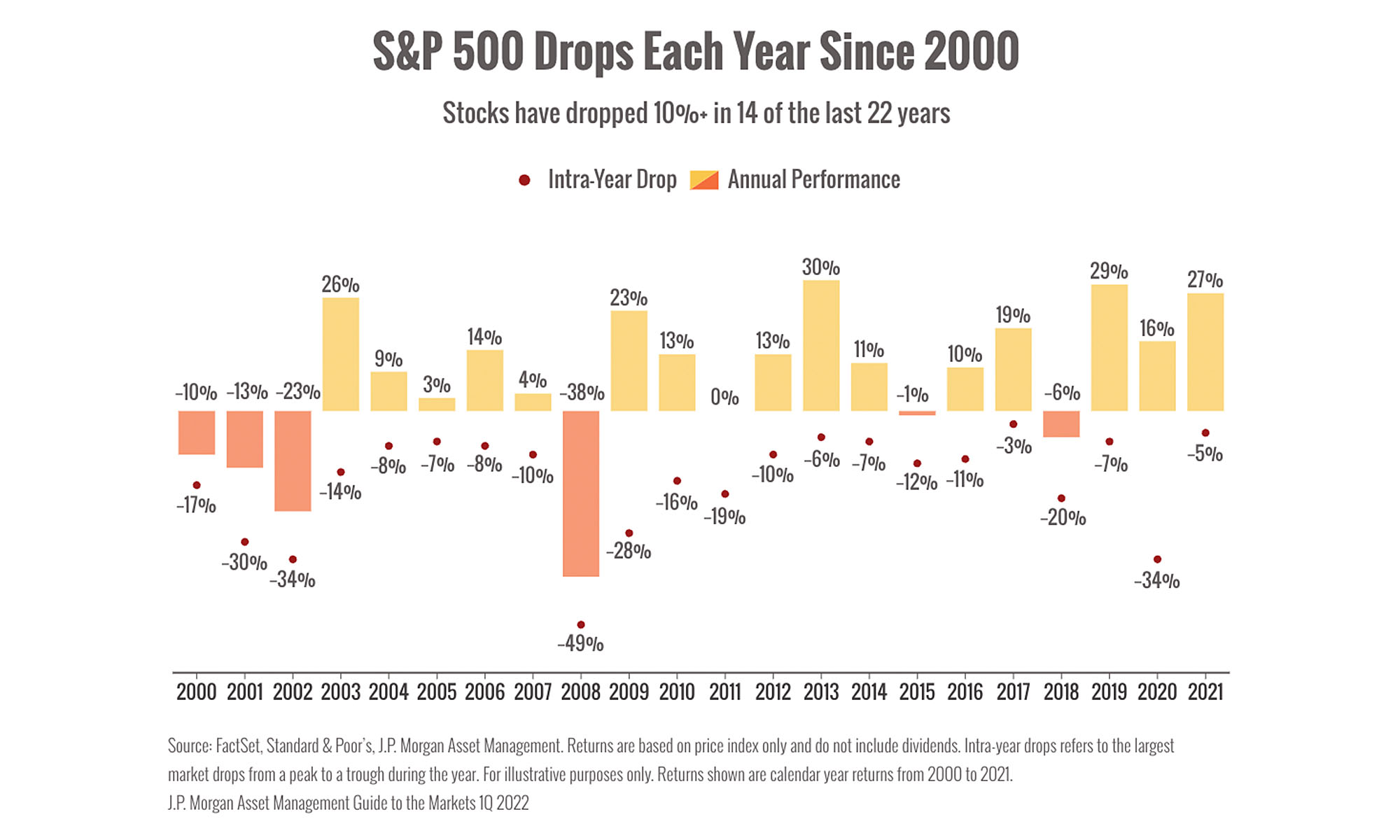 The big takeaway? In 14 of the last 22 years, markets have dropped at least 10%.6
We're dealing with a lot of uncertainty and investors are feeling understandably cautious.
However, that doesn't mean that we should panic and rush for the exits.
We have no idea how long this wild ride will last.
And there are plenty of bright spots on the horizon, in terms of employment, earnings, economic growth, and COVID.1
We're watching markets closely and will be in touch if we need to make some changes.
---
1 https://www.cnbc.com/2022/01/23/stock-market-futures-open-to-close-news.html
2 https://www.cbsnews.com/news/stock-market-down-federal-reserve-inflation-earnings-2022-01-25/
3 https://apnews.com/article/consumer-prices-inflation-c1bfd93ed1719cf0135420f4fd0270f9
4 https://fortune.com/2022/01/24/apple-microsoft-tesla-earnings-reports-tech-stocks/
5 https://www.reuters.com/markets/europe/how-russian-ukraine-conflict-might-hit-global-markets-2022-01-21/
6 https://am.jpmorgan.com/content/dam/jpm-am-aem/global/en/insights/market-insights/guide-to-the-markets/mi-guide-to-the-markets-us.pdf
Advisory services offered through Wilon Wealth Management, a Registered Investment Adviser Firm.
Category:
News